Today we are excited to announce a very special new bonus for all affiliates participating in the September 2016 UNSTOPPABLE Contest.  Get full details on the contest HERE.
Develop 3 or more new (first-time) EA2s in September and you'll automatically win, as a special bonus, one of our exclusive, brand new Unstoppable Affiliate collectable coins!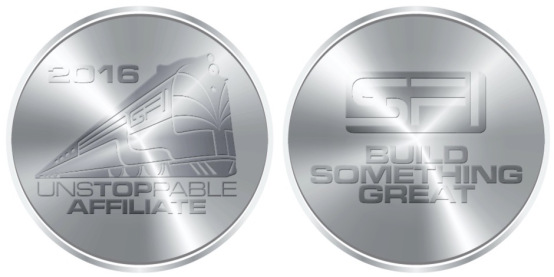 These handsome, two-sided silver-finish coins simulate fine silver and are made of Nickel-Silver, a heavyweight alloy made of a special blend of nickel, copper and zinc.
Although these coins contain no precious metal, they are bright silver in color, scratch-resistant, non-tarnishing, and very durable. 39 mm (1.54″ diameter), silver dollar size.
Proudly display your coin at your desk, or keep it in your pocket as a constant reminder of your SFI goals.  Your Unstoppable Affiliate coin is also a truly powerful conversation starter and marketing tool.  Hand it to a prospect and watch them get quickly interested in joining your SFI team!